Xai-Xai area
The main reason for our visiting Mozambique was diving. We really hoped for extraordinary underwater encounters. That is why we stayed for a moment in Vilanculos and then jumped in Tofo for a few days. Our next point of interest was Kruger National Park. It is far away and bearing in mind our previous driving experiences we decided not to go there in one day. It would be ridiculous to hurry up and miss beautful places along the ocean's coast. Finally we stayed in very calm place near Xai-Xai. It was a camping in Praia do Chongoene run by nice couple from SA. They gave us the idea of visiting an abandoned hotel. They compared it to Titanic, and described as one of the most luxurious in its epoque. So being Curious About The World we went there without hesitation. After a few kilometres of nice walk along the beach we arrived.
Hotel
The building made an impression on us. Especially its location between ocean and sand dunes. Moreover, there is an empty Olympic sized swimming pool with the old diving platform still in place. Removing loosen and rotten boards covering the door we entered inside and found ouerselves surrounded by spaces including over 100 rooms, huge ballrooms, dining rooms and so on. Of course there was nobody else.
It is not easy to find any info about this hotel, that is why we partly rely on our camp-hosts knowledge. The object was built during the time when the Portuguese ruled in Mozambique and a person named D'Olivera was its owner. It was abandoned when the independence war ended in 1975 after infamous 20/24 decree in which the Portuguese were forced to leave Mozambique with 20kgs of luggage within 24 hours.
Up till now Mozambican people refuse to live in houses occupied by Portuguese before, and therefore this hotel hasn't been occupied by squatters. There have been some rumours about a South African company wanting to invest and restore this building but so far nothing has happened.
However, closing eyes we could easily imagine elegant people dancing and waiters discreetly going around with trays full of champagne glasses.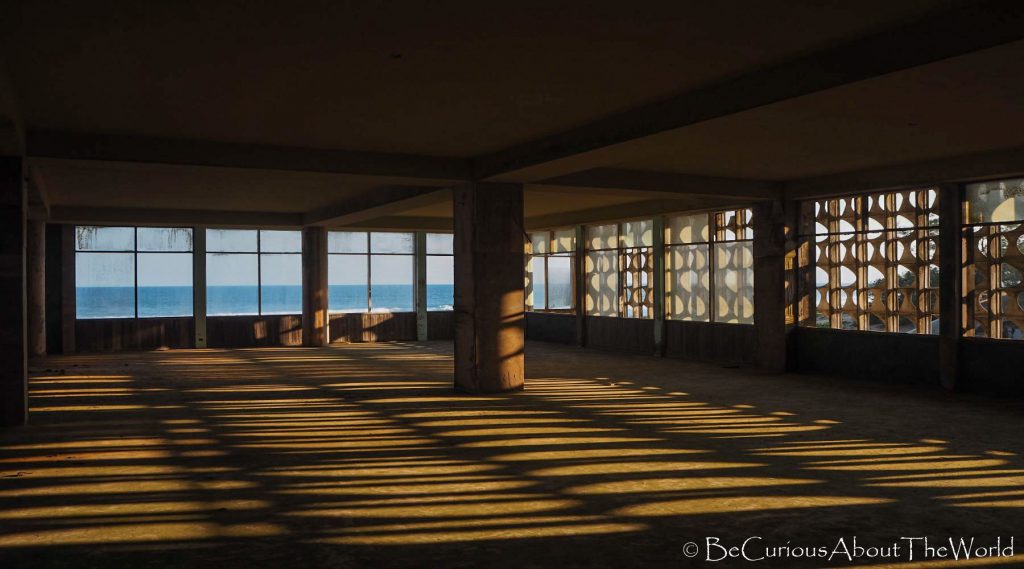 Haunted place
History of this place is not so fortunate however. It is said that after this decree mentioned above some of the Portuguese civilians failed to leave the country before the deadline that had been set by the government. They hid in the vast property of the Chongoene Hotel. They were tracked by soldiers and finally executed. We don't know how many people were there and how long they were held hostage there. Now, it is believed they are sometimes wandering along empty corridors. So, having a vivid imagination probably you may fear a bit
It doesn't matter if you believe in ghosts or not. Being in this area it is worth to visit this abandoned and maybe even haunted place.