They use to joke that they can buy something from a Jew, sell it to a Scot, and make a good profit. There must be a lot of truth in this when the Mennonites managed to settle in the inhospitable Gran Chaco and prosper well. We stop in the Paraguayan town of Filadelfia to get to know their story better because it is very interesting …
European beginnings
They come from the territories of Switzerland, Germany and the Netherlands but in Europe they became outcasts. Reformation processes in the sixteenth-century church caused that they also played with their card. They wanted their own doctrine of faith, they did not want to use weapons and serve in the army, they wanted to live with honest simple work, rejecting to some extent the progress of civilization. They failed and succumbed to persecution quickly. So they left their native land and came to Prussia – to the territories of today's Poland. They were accepted there on condition that they would help to irrigate and drain marshes in Vistula River Delta. That's what they did, using their dutch experiences. Then, however, the war broke out, Poland was reborn and the german-speaking population had to leave Prussia. Again, there was no place for them and they moved to Ukraine. Also failed: firstly because of the bolshevik revolution, and then Uncle Stalin gave them another kick. Different religion, lack of social integration and extraordinary economic resourcefulness were an eyesore. Siberia, work in gulags, and then even exterminations have made a strong impact on their communities.
From Russia to Paraguay
They pleaded with Stalin for leaving Russia. He agreed. With passports stamped "nationality unknown" and penniless note, they boarded trains going west. Some of them went, but Stalin had meanwhile changed his mind. The borders were closed and many families were separated forever. They are looking for each other untill today. From their russian-polish history only a traditional white borscht has left. Some of them have finally found their land: unnecessary and inhospitable Gran Chaco. Heat, dusty soil, salt water, spiny vegetation. Away from anything. They managed somehow and are today an economic power in Paraguay to which Latinos and simple local people cuddle up.
Conservatism vs modernity
Still, they are a closed community where culture counts. Although the church has gone into the background, it is still a very important integration element for them. Naturally, some of them lead ordinary life in our understanding and use modern technologies. They have cars, cell phones and professional world-class agricultural equipment. However, there are also other colonies where live those more conservative who remained with dungarees, chequered shirts and hand plows. They work since dawn and they are still piously pray before a traditional, simple meal.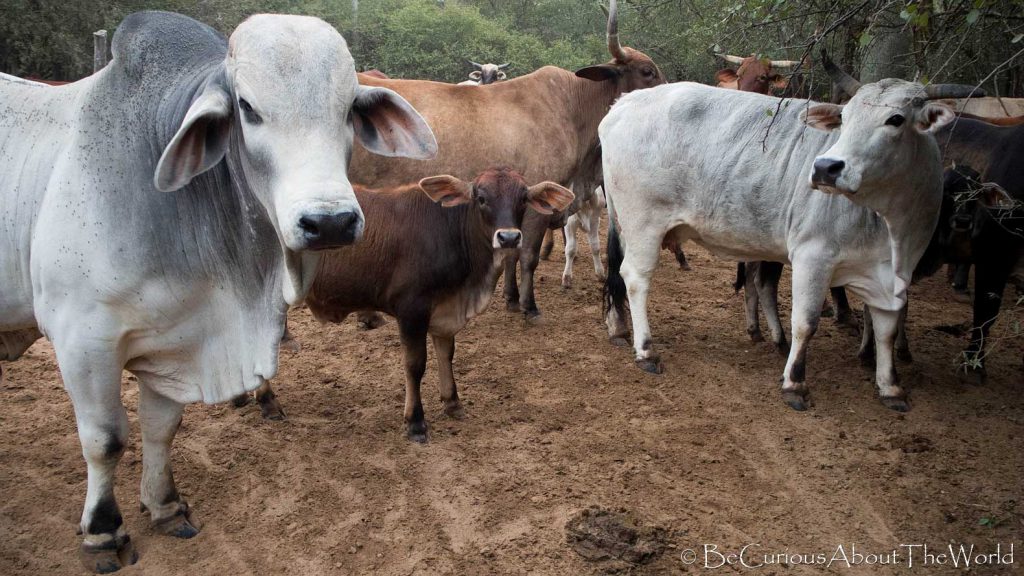 Resourcefullness and work
Mennonites are born farmers. Peanuts and the highest quality beef are common export goods. Beef produced according to the iron rule: maxim um one cow per hectare of land (in Europe it is completely impossible)! Beef which is better than argentinean one, but much less popular than it. In spite of everything, you can unconsciously taste it, because as they say, Russia imports the best meat and uses it as a filling for the pielmieni dumplings exported to Europe. The question whether this fact irritates them isprobably superfluous …
And one more interesting thing. Mennonites use money only to a limited extent. The cash and the trade are operated by in a sort of a mennonite cooperative. What the family produces is bought but only the values in the account are recorded, usually without any cash. Then the cooperative exports, processes and sells something in its stores. There, the family comes to buy something and the appropriate amounts are deducted from the account. The stores, however, are not everything: there are mennonite car workshops, mennonite service stations, and mennonite health care. All of it has been working for almost a hundred years. So, if someone thinks that the virtual money was invented in the USA, he might be right, but that was done most probably by Mennonites who lived there.
We stayed longer than we had planned. The modest Mennonites seemed to appreciate our modest life in the car. They were hospitable and eager to talk about themselves. Using the opportunity we ate tasty beef-sausage, peanut butter and traditional bread made by Mennonites,