INTRODUCTION
Since you are reading this, you've probably decided to become an overlander, or at least you think about it..? It sounds pretty good. Probably you want to explore all those photogenic places by your own car, taste the adventure and wild bivouacs, cross the iconic roads? You have even set a budget and collected the necessary funds? Cool, just do not change your mind because it's a great idea! All that left to do is to buy, outfit and drive your overlanding car … HURRA!
Believe it or not, but the configuration of an expedition car is not an easy task. Of course, you can do it anyhow, and go anywhere but probably that is not the point, is it? On the other hand, "overlanding" as such has too many definitions, and the market provides so many temptations and solutions that it is really difficult to find a common sense in it. What's more, once the decision to buy and configure the car has been made, it will have a long-term effect. During the expedition, it is often impossible to change something or significantly modify it. And then the sale of a badly configured overlanding car will definitely affect your pocket. So read how others started with it. Perhaps you will choose better and spend this considerable amount of money in a smart way… It is better to learn from the mistakes of others than your own. We think so …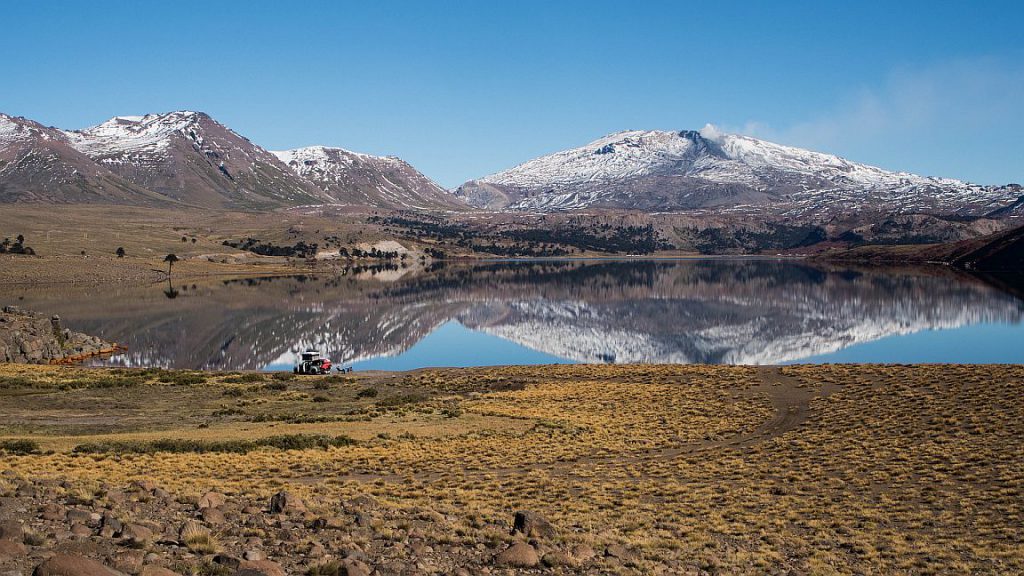 We had hard time finding a reliable source of information that would help in choosing the right car and equipment. Highly professional or biased articles intimidated us by the level of complexity and prices and usually encouraged to excessive 'gear mania'. That's why we decided to write this post with a dedication to others at the beginning of this way. How it was in our case and how we see it now. However, if we draw new conclusions or learn something, we will develop and modify this text. We hope that in this way we will make it easier for someone to make this difficult decision.
DEFINE YOUR TRAVEL STYLE
Every day of traveling experience you gained is invaluable to choose the right car and then equip it properly. The most is learned along the journey however. Conversations with the experienced owners of other vehicles will provide you with an infinite number of ideas, conclusions and ready solutions. Nevertheless, many paths have already been paved and you can prepare many things before you leave the garage. At the beginning, the precise answer to the following questions is essential:
what for do you need this kind of car? (the way in which it will be used/exploited)
where will you drive it / what kind of roads or terrain you are going to drive through?
how long will your journeys be?
what are your expectations about comfort and living conditions?
Sounds trivial? Despite appearances, the answer is not simple. What we imagine before traveling, and what the trip brings, does not always have mutual parts. Sometimes life prepares surprises, and sometimes the appetite grow­s with eating …
Do you want only wild camps or a hotel and a bit of comfort from time to time are a must? Do you like restaurants and wine tasting, or do you prefer to cook by yourself at the end of the world? Two days without a shower terrify you or you can wash your body with a damp sponge for two weeks? Do you go alone / with a partner, or maybe with a large family? Do you like comfort and gadgets or are you a minimalist? Do you feel off-road passion and you like to be far away from civilization, or do you just want a car that allows you to choose the road freely? Are you going for a week in the countryside, for two months in Romanian mountains, for an annual trip through Africa, or are you planning to spend the rest of your life en route? Does not bother you if sometimes it rains, blows and mosquitoes ruthlessly bite or do you think that one week without sunny weather in the countryside is a real nightmare?
Yes, you MUST answer unambiguously and honestly all these questions. Only this will allow you to make the right choice, which will later turn out to be a kind of compromise. Why? Read more …
HOW IT WORKS IN THE WORLD
We can risk the statement that the majority of the world can be toured by an ordinary passenger car or a regular camper. Without complicated modifications, stylish off-road equipment and photogenic gadgets. There are plenty of good tarmac and well-maintained gravel roads. However, if you value independence and you are tempted to stray a bit off the beaten track, then you should take into account the cars with higher ground clearance or even better with a 4×4 drive. We will focus on them in this post.
Below we ventured an attempt to categorize the vehicles used by various overlanders. Before buying, think about whether you see yourself in one of the following models of travelling.
1 Campers built on heavy trucks
Huge campers built on big trucks are an option for long-haulers. When well geared up they offer amazing comfort of living and traveling. A full-sized bedroom, a kitchen and a bathroom? A washing machine and an oven on board? All this is possible but it is the solution for those who eventually changed the house into a car. A very large investment which is the configuration of such a car pays off in the long term due to the almost complete independence of travellers. Water from the river which is just pumped through a filter system, electricity from solar panels and you can live wherever you stop. However, there are also disadvantages. In addition to a large expense to start with, you also need a special driving license. Freight costs and road tolls are significantly higher. Huge mass and dimensions limit or prevent entry into many places and make parking difficult (bridges, viaducts, tunnels, mountain roads, city centres, crowded tourist locations). To increase your mobility, you need a motorcycle or scooter on board. For example, narrow and precipitous roads in Peru for this type of car are mostly inaccessible. Something for something.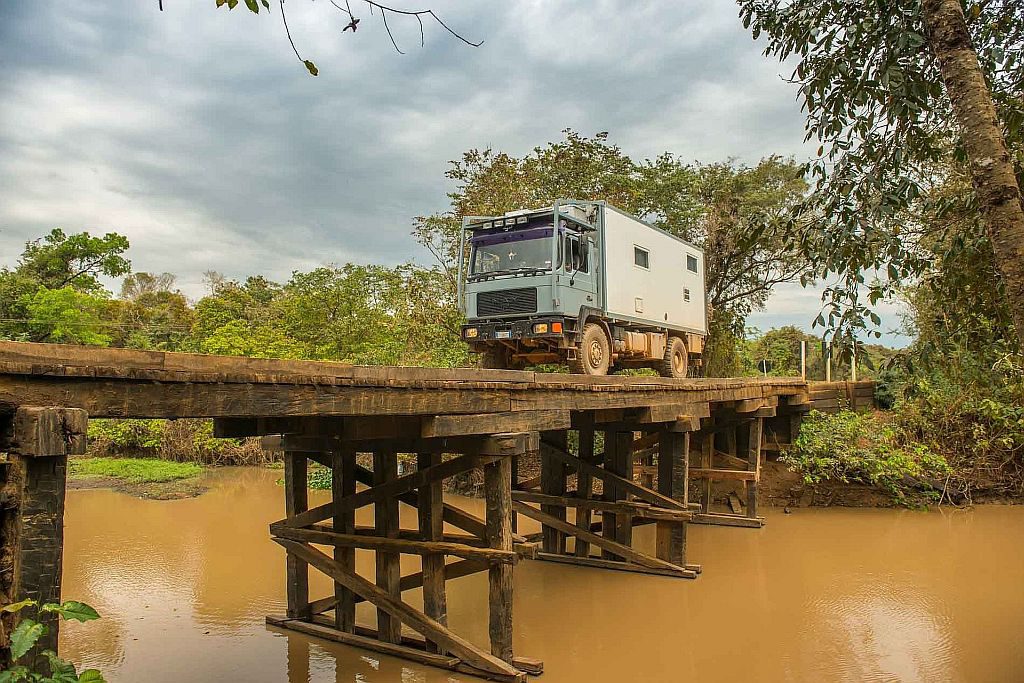 2. Campers on cars with VAN type body
4×4 camper built on car like Mercedes-Benz Sprinter, VW T series, Iveco Daily, etc. is a great solution if you prefer comfort of a camping rather than off-road abilities or if you are traveling with your family. The space for living is still large, there is a lot of space for luggage, and it is a bad weather resistant solution. Spending a rainy day or even a few rainy days in such a car is not a punishment. Freely you can move, cook, eat, relax. There is usually a toilet, a heater, a table. Also it is possible to enter a beach or less demanding terrain, but bear in mind that the final dimensions of the car, the high centre of gravity and the total weight do not allow to overcome difficult passages – even if you have a 4×4 car version. However you can definitely cope with the vast majority of roads. This type of a car usually does not fit into the standard sea container, which increases cost or reduces the quality of freight (ie. RoRo is necessary – that is a kind of transport directly onboard of the ship). These cars are produced in different variants of GVM (permissible gross vehicle mass). If you aspire to something above 3.5 tons then you will need a different category of driving license.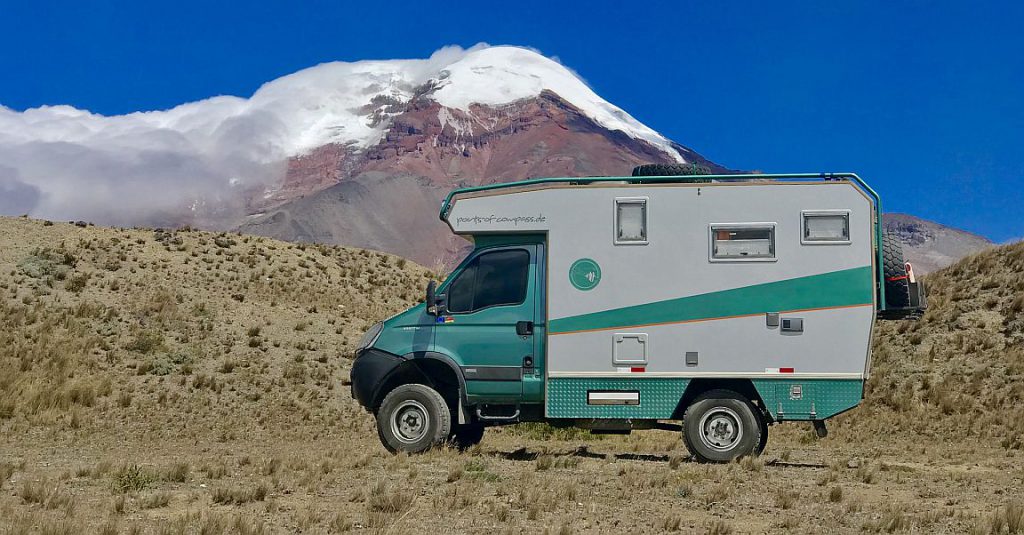 3. Campers built on pickups or off-road hatchbacks
Small 4×4 campers built on pickups or off-road hatchbacks like Toyota Land Cruiser or Land Rover Defender are a great option. Properly outfitted, they allow to keep the majority of 4×4 attributes while offering sufficient comfort of camping for two people. It is important to have a opening roof that allows you to stand freely inside and significantly improves ventilation. The main disadvantage of this solution seems to be a large and irreversible investment in the car. It will remain a "special car" and will be less useful in everyday life. Most of these overlanding cars might be transported in a classic 20ft sea container (less than 2.3m in height). It is probably the most versatile solution that is a good compromise between the comfort of living on the road and the off-road capabilities of the car. You can still function inside with relatively good protection against bad weather, but far from the comfort of solutions from points 1 and 2. During configuration, bear in mind the gross mass and size of your car, not to change your vehicle body into a truck.
4. Slide in pickup campers
Very popular, offering great comfort and versatility. Usually you can easily remove them, put on special legs, and then use your car in the usual way. This is useful, for example, at the campground when you want to quickly go for shopping or a have a shorter trip without liquidating your camp. The interior is comfy more or less at the level of option from point 3. Disadvantages? Worse balance of the car with a high center of gravity, large dimensions and often too much weight. Damaged axles or even the frame is not a rarity when a driver convinced of the terrain capabilities of his car will go too far with this kind of load. These slide in campers, when installed on pickups, usually do not fit in a 20ft sea container, what significantly increases the transport costs or complicate it.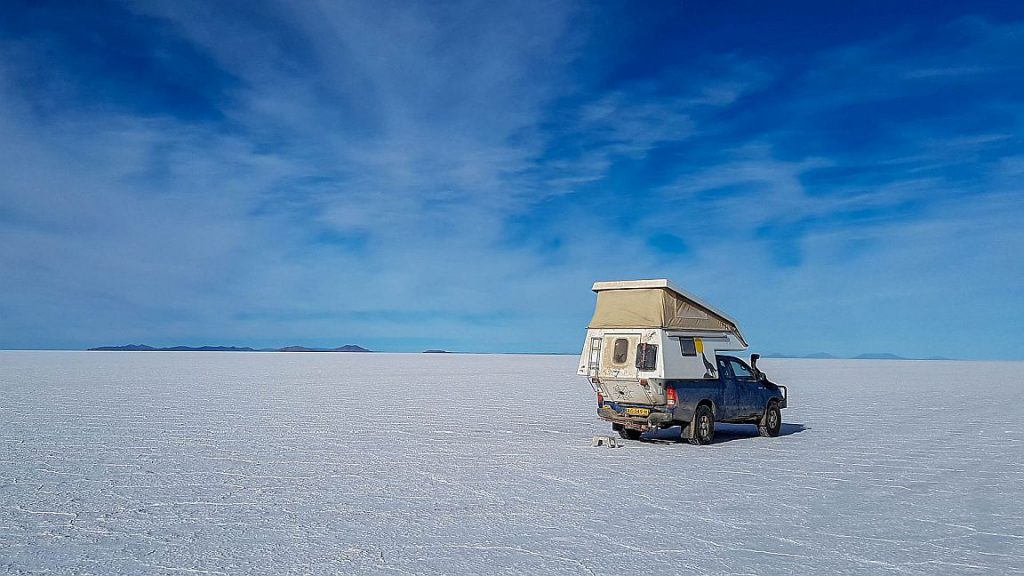 5. Pickups with canopy and roof top tent
This solution is relatively cheap (whatever it means) and universal, offering good sleeping comfort and large luggage space. Good for minimalists or for shorter trips. It allows you to keep the full off-road qualities of the car, but it comes down to living and cooking outdoors, which are extremely attractive in good weather, but sometimes they are troublesome in more difficult climates. In a good tent, you will survive any downpour, but there is no heating, and from time to time you have to unfasten the entrance and go down the wet ladder to take something from the cabin. However, you will sleep well, the wisely organised canopy serves as a kitchen and allows you to take a lot of luggage. With this solution it is difficult to remain unnoticed. The unfolded tent and a ladder leading to it make the discreet accommodation at the back of the gas station or in the small town market difficult. But it is rather an emergency situation, because who wants to sleep at a gas station? A big advantage is a trouble-free transport in a container and regular dimensions. There are various side tents and awnings available on the market that can be used to increase the living space. It is extremely popular way of travelling in Australia and Africa. For us there are more pros than cons!
6. Off-road car with hatch-back type of body with inside sleeping possibility
Classic 4×4 car with a hatch-back body prepared for sleeping inside by folding down or removing rear seats and installing a platform with a mattress. Probably the most budget option and a bit similar to this from point 5. Only for those well-organized and resistant to lack of luxuries. In the case of strong winds and low temperatures, it offers probably better sleeping comfort and it is a bit more discreet than the one from p. 5. But all this at the expense of moisture inside (practically no ventilation), much less space for luggage and worse organization possibilities. In general, most of the belongings go to the roof, where waterproof boxes are needed as well as good load securing system. A problem-free car transport in a container.
Well, we do hope we have organised the topic a bit. As a source of inspiration we also recommend various fairs that will give a good overview of what the market offers. The biggest ones take place in Bad Kissingen, Germany. Certainly each of the above options will be exhibited there in at least several versions.
Finally, a certain regularity which we have noticed. Namely, choosing the right overlanding car seems to be the interaction of the age of travellers and the length of the trip. In larger campers, older overlanders travel more often. They look for a bit more comfort, have financial backup and a lot of time. The young, for whom an annual or two-years journey is a life episode and a break from busy everyday life, willing to endure more inconvenience and tend to choose smaller and more budget-oriented cars.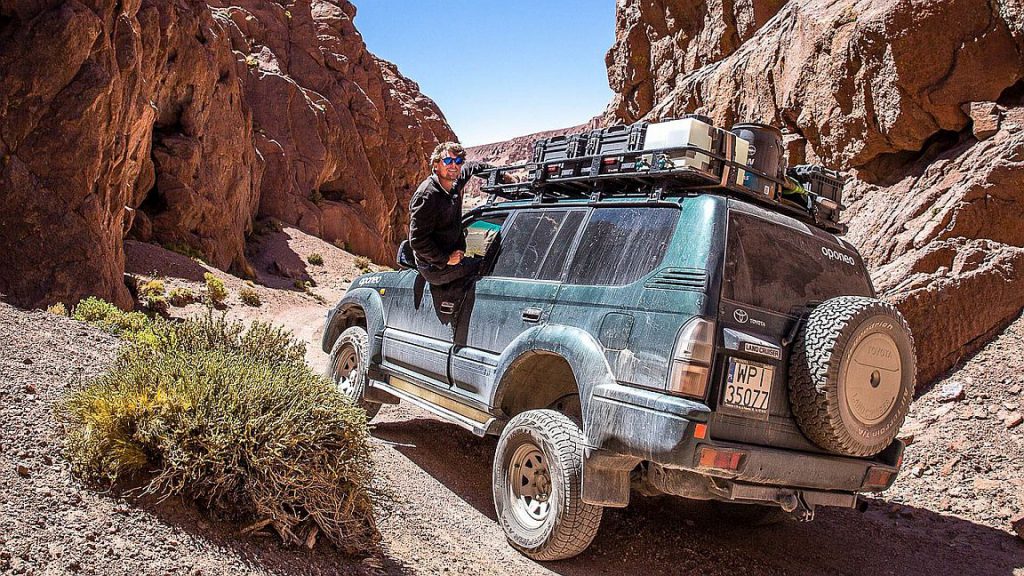 OUR CHOICE
For the needs of almost two-year trip Patagonia – Alaska, we decided to buy a new pickup with a back covering canopy and a roof tent – a variant from point 5 above. This is certainly not the best solution, but considering our budget and time constraints as well as the price/quality ratio, we found them to be the most attractive for us. We chose the Isuzu D-Max pickup which enjoys the reputation of a reliable tough working car. Although it is a bit underrated in Europe, it is very popular in Asia and Australia. It is also easy to encounter them in the countries of South and Central America and in Africa (often twin models under the Chevrolet brand).
We wanted to buy a car not newer than the 2016 version with a proven 2.5D engine with 160 hp. We chose an average version of equipment – LS. We wanted to avoid the excess of gadgets tempting thieves as well as complicated electronics which is sensitive for dusty and damp conditions. In relation to the version ordered from the dealer, we asked only for leather covering of not very pleasant to the touch steering wheel, replacing the factory aluminium rims with steel, dimming the rear windows and mounting a spare wheel lift (the fact that such a car is sold only with a repair kit is a misunderstanding … ). In addition, we ordered the construction of the so-called canopy, made of aluminium, additionally structurally reinforced for the transport of heavier loads on it. All subsequent changes, improvements and modifications have been entrusted to a company specializing in Isuzu modifications and adaptations.
CONFIGURATION FOR OFF-ROAD AND 4×4 GADGETS
1. Suspension and differential locks
Off-road equipment retrofitting can be useful and adds confidence, but at the beginning you can easily stay at the base. We practically left the car in the factory configuration without major changes as far as the driving parameters are concerned. If stock parts are not enough for you, nobody is going to stop you buying better ones. You are the master of your wallet. However we decided that what the car offers straight from the factory is enough for us. We assumed that we do not want to lose the guarantee or throw new parts in a trash bin. If you have an older car, which requires service (especially when it comes to suspension), or you are simply aware of the terrain shortages of your stagecoach, definitely do not go this way and invest. We did not exchange shock absorbers and other parts. The exception was the strengthening of the rear leaf springs caused by the weight of the canopy and our luggage. In retrospect, we maintain this point of view, but if we need to replace any elements, we will definitely want to have a reinforced suspension and a bit of lift (remembering the total height of the car and the possibility of loading it into the sea container). We believe that from all the off-road parameters in traveling like ours, the ground clearance is crucial. With any alterations of our car, we will also add at least a rear difflock, which will certainly reduce the frequency of using the shovel.
For long journeys, you probably do not want to drive an experimental overlanding car, so be moderate. Remember that every change in the suspension or in the transmission system almost always has consequences for the way the car is driven and effects on other sub-assemblies that might be overloaded and damaged. So apply the principle of sustainable development and do not overdo it with the development of some elements, neglecting others. If you do not have any experience, take advice of experienced workshops and enter the world of off-road in small steps. At the beginning of the overlander career, being thousands miles away from home, you should not get into deep mud crossing.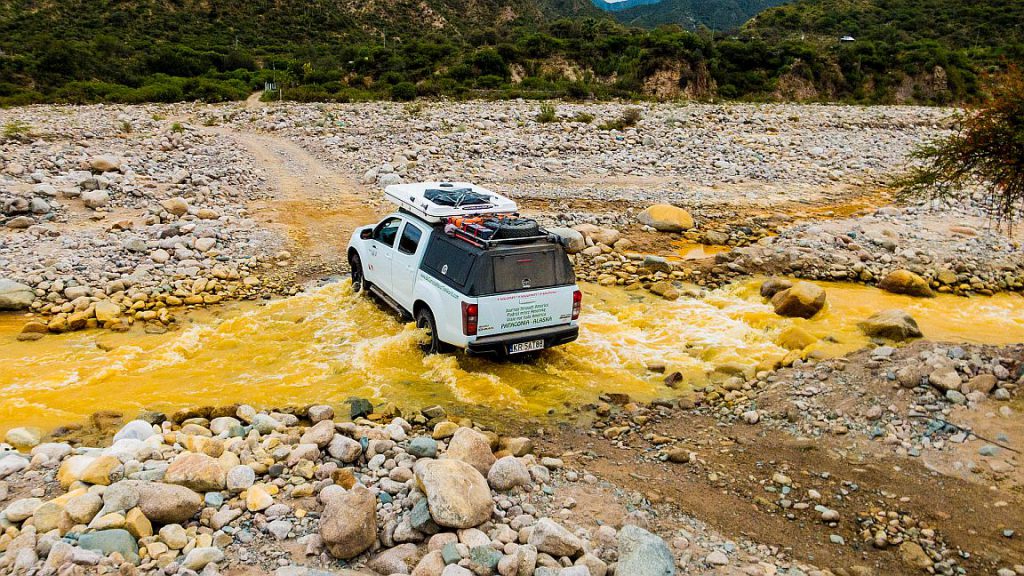 2. Rock sliders, hi-lift jack, towing
In addition, we equipped our overlanding car with a tow bar and side steel rock sliders allowing the use of a hi-lift jack. We purchased a hi-lift jack (with an off-road base and a lift aid for rims), a towing belt with steel shackles and additional tanks 2×21 ltrs for fuel. After 10 months of use in South America, we confirm the usefulness of rock sliders, which greatly facilitate access to the loading zone on the roof and to the roof tent. We used the hi-lift jack literally once (for regular wheel changing), and the tow bar turned out to be a complete mistake spoiling the angles and lowering the car's off-road abilities. A much better idea would be a reinforced rear bumper with recovery points.
3. Snorkel, tires, lighting
The snorkel we decided to buy more as protection against dust, rather than for wading in deep water. We bought a good air compressor and exchanged a set of tires on the AT BF Goodrich, simultaneously configuring two spare wheels. The car also gained side and rear work lights and a front LED strip for driving at night outside the public road network. And here again, our remark about the usefulness: the snorkel is really helpful but additionally we would use a cyclone filter, because on the dusty roads of Patagonia or Chaco the air filter becomes clogged quickly. Good AT tires are crucial as well as the compressor so that do not require a wider comment. The second spare wheel is still a kind of dilemma for us. For 105000 km in Americas, we had just a few punctures. Mostly around city areas caused by a nail. However, we have the ability to control tire wear through wheel rotation for entire axles. If you are not tempted by a complete outback and you have no place in the car, let it go. Take the inner tube and a decent repair kit.
4. Enlarged fuel tank, recovery boards, winch
From other 4×4 accessories, the subject of considerations were also: a winch, an exhaust jack, an enlarged fuel tank, recovery boards, a front bull bar and recovery straps. That time they were outside of the budget or we had a lack of space in the car … Today, looking from the perspective of time and having a lot of travelling friends, we can say that most experienced overlanders do not use a winch (it's extra weight and help rather for others than for yourself). On the way you do not always have others cars' company so it is better to bet on recovery boards, a good shovel and an air compressor. Many drivers instead of carrying canisters for additional fuel use enlarged tanks. This option is not just about the convenience of refuelling and discharging, but above all, it is about the transport of additional fuel across borders and about local regulations – jerry cans often attract the eye of customs officers and policemen.
ANTI-THEFT PROTECTION AND PROTECTION AGAINST EXTERNAL FACTORS
Overlanders use different safeguards against the evil of this world. Reinforced locks, anti-burglary films for windshields, GPS locators, hidden buttons and steering or gearbox locks are supposed to be guarantee of the safety of your belongings. They all make sense, because the car is your home, and the visited countries and places often have a dubious reputation. We've used a rough, gearbox lock made by Bear Lock. No one has verified its effectiveness so far.
When it comes to protecting your overlanding car from external factors, it is worth thinking about anti-corrosion protection, especially when you travel through salt deserts, salt pans, etc., paint protection (protection of the front bumper and wheel arches against stone impacts and sharp plants, i.e. through the use of protective films or coatings synthetic type i.e. Linex) and the protection of the windshield against stones (protective films). Tough sheets protecting the chassis are also a very important matter if you want to escape far away from civilization.
CAMPING EQUIPMENT
It's a completely different story and topic worth a separate post. Every driver has a different opinion. And every driver's wife has another. Below we have described our choices and the most popular equipment and outfitting among encountered overlanders.
1. Roof tent
The most important element is the roof tent and its fixing. We chose the James Baroud off-road tent – model Explorer, which is supposed to be the highest shelf of this type of products. We are very pleased with both its practicality and convenience so far. The system of fixing it is a skeleton rack dedicated for ISUZU D-MAX made by FrontRunner with small modifications. After all the potholes and corrigations we crossed we are convinced that an ordinary roof rack not intended for off-road use would not survive this test.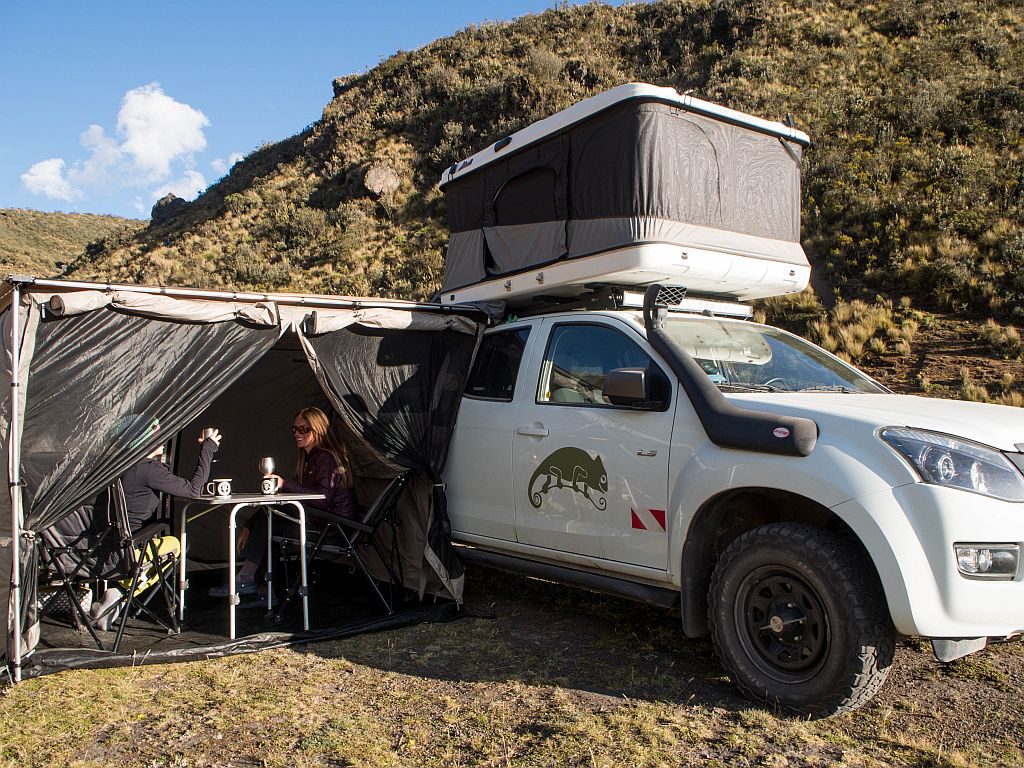 2. Roof rack
On the roof of the canopy there is a custom-made railing system equipped with so-called 'airline rails' for easy and effective fastening of loads. The roof itself was covered with a scratch-resistant Linex coating. Until then, the most dirty and bulky items were loaded there: one of the spare wheels, jerry cans and hi-lift jack.
3. Awning and side tent
On the one side of the car, we installed the ARB awning protecting against the sun and rain. Additionally we bought a side tent compatible with this awning, that can be turned into a mosquito net in warmer climates. They serve as a day zone and complement the bedroom roof tent during more weather demanding days. The only thing missing is the bathroom, so we also have one more tent with us – a shower cabin, a foldable bucket and an electric shower attached to the lighter socket.
4. Inside of the canopy
The interior of the canopy was filled with "furniture" designed by us after consultation with the contractor in the field of material and assembly solutions. We designed: chambers adequate to the dimensions of our luggage, a cargo drawer (retractable 100%) on which part of the load goes (among others a fridge), as well as a side "sideboard" ensuring a pretty good organization of the most necessary accessories such as wine glasses and corkscrew … The internal body was made of waterproof plywood and stainless steel sheet, and the whole was covered with a synthetic LINEX coating that protects against external factors and stiffens the construction.
5. Electrical installations and fridge
The tourist equipment was supplemented by a WAECO CFX-35 compressor refrigerator and internal lighting of the canopy. All those powered by a second battery and operated from a console made by Intelle – the firm that specializes in electric systems for yachts. On board there is also a 220V inverter suitable for charging delicate electronics and a number of cigarette lighters and USB ports.
6. Small equipment useful at the campground
In addition, we took a two-burner gas stove, shovel, axe, saw, water tanks with a total capacity of 60 ltrs and a system of transport containers and belts with buckles and rachets for attaching luggage. A useful thing that we use practically on every second campground are the levelling blocks that allow easy levelling of the car, which is important for the comfort of sleep in a roof tent. Naturally, they can be replaced with stones or other elements but believe us: the more uneven the terrain is, the harder to find them around. And finally, what constitutes the comfort of staying at the campground: a decent table and comfortable chairs. The table is better with individually adjustable legs – in the end we want to camp in the field, and in the field it is usually uneven. We chose chairs with adjustable backrests and folded in such a way that they would take up as little space as possible.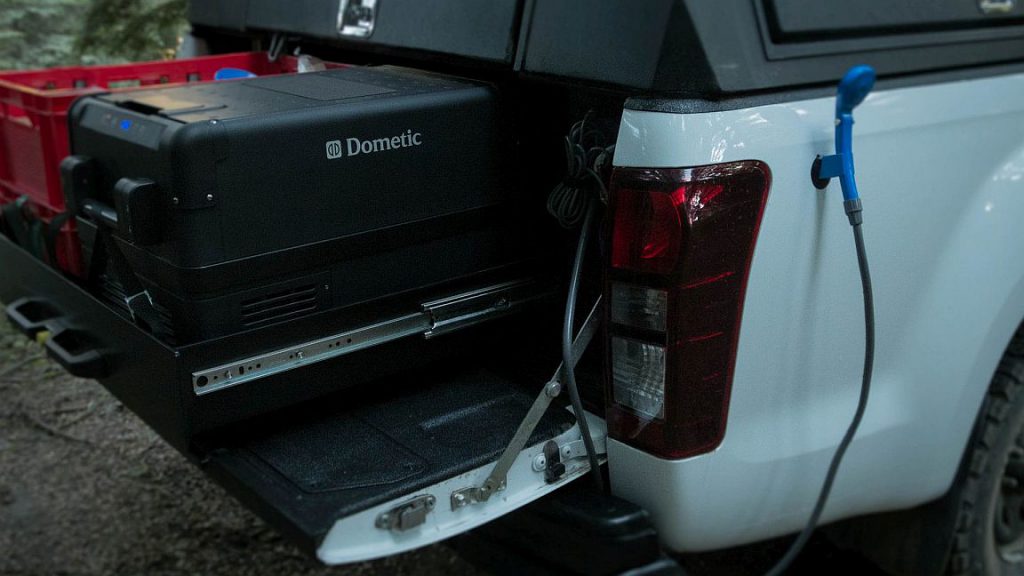 7. Ideas of other overlanders
Finally, a few words about what other overlanders have and praise, and we do not have it. First of all, the water heating system for the shower which is plugged into the engine cooling system plus the insulated hot water tank. The water warms up while driving and in the evening we have a hot shower ready wherever we stop. The second cool thing are solar panels that charge the secondary battery during longer stops. Not necessarily permanently mounted on the roof, but foldable and portable, which can be put up anywhere. You may also think about the external power supply from electricity socket on the campground. For this you will need an inverter or charger for the secondary battery. Bear in mind that in some countries the output voltage in the sockets is 110 V, so use appropriate devices.
CONCLUSIONS
As you can see, all depends on where you go, for how long and what you expect from the trip. However, we think that you start to feel that choosing and outfitting a car for overlanding is a difficult and complex task. Although forums and discussion groups on FB are growing and developing, so it is worth asking and discussing widely. Be aware that most of the necessary components and accessories cannot be bought as the option "buy now".
We do hope that we have opened at least a couple of topics for reflection. Make smart decisions but do not overextend the configuration process and do not spend everything you have in the piggy bank. Money saved on the car will be spent on travel. It is a more effective investment. In addition, the best is the enemy of the good. We've been on the road for almost a year and the idealists stay still in their garages.
And finally, remember: a good expedition car is like a good spouse – it's always a kind of compromise.
Want to know more about overlanding? Read also this: https://overlandsite.com/what-is-overlanding/