Are wild african animals dangerous? Does overnight staying in unfenced campsites bring any risk? How close can we approach the elephant? Should we close car windows when hyenas or lions are around? What if we got stuck or had a puncture? Can we get out? These and many other questions appeared when we visited Africa very first time. We are not going to pretend we weren't scared at all but we felt really excited…
Obey the rules
Obey the rules and the regulations – this piece of advice is such obvious that I feel confused writing it. However, to respect the rules you simply need to know them. In most national parks at the entrance gates you can find information. There is also a great opportunity to speak with guides who usually have the first-hand info.
Unfortunately, the significant part of tourists ignore it completely. The Internet is full of stories about cars rolled over by elephants or movies presenting tourists getting out their cars and taking photos of lion lying in the middle of the road. There was famous accident somewhere in Zimbabwe when a couple decided to have sex in bush and their behaviour provoked a lion to attack. There was no happy end: the girl was mauled to death and her partner somehow managed to escape naked and he was only wearing a condom.
So, do what common sense suggests you and remember at least about following:
remain in your car unless it is designated area
no part of the body may protrude from a window or sunroof or any other part of the vehicle. Animals can recognise a shape of vehicles but people standing on the roof can appear to be disturbing or, what is even worse, interesting for them
stick to the speed limits. You risk a crash and surely you are going to miss something interesting
have eyes in the back of your head all the time
do not leave any food in your campsite – it may attract unwanted visitors
at evening stay close to your tent and remain in circle of light
avoid visiting ablution blocks during a night time
Obviously most of rules are universal, but of course some exceptions work. Examples? Here you are:
Gorongosa NP in Mozambique: elephants are known to be more aggressive towards cars (post-war trauma). That is why selfdrive safari there is limited or even prohibited.
Hwange NP in Zimbabwe: in 2016 they warned against two lion males, that arrived from remote unpopulated areas, and appeared to be nervous and aggressive. They charged tourists cars leaving some scratches on car bodies
Mana Pools in Zimbabwe: one of a few national parks where walking freely is allowed.
Choose campsites comfortable for you
We can't mix up all the campsites and lodges. Depends on your expectations, approach and experience choose something appropriate for you. In our humble opinion places like Kruger NP or Etosha NP are fully civilized. Camps are fully fenced, waterholes artificially maintained and floodlit, and comfortable tribunes for visitors prepared. It is hard to talk about any danger there and you can take your children there without hesitation. But there are also remote and wild places offering direct contact with wild nature, where campgrounds are not fenced, facilities are really primitive and visitors of any sort and size are common – i.e. overnight visits of lions in Chobe NP or in Tuskers Campsite next to the entrance to Hwange NP.
What to care about
ELEPHANTS
Peaceful giants usually completely ignore people if only we keep comfortable distance and don't split up their herd. Therefore do not approach too close, give them way when they are crossing the road and be sure that every single herd member passed over. Separated elephant baby makes its mother and grandmother stressed and aggressive. Young males with buzzing testosterone are even more unpredictable. Staying close to elephants avoid revving your engine up, do not use a horn, and withdraw yourself slowly if they become nervous. At the campsite avoid setting up the bivouac on elephant tracks and do not keep your food (particular fruits) in the tent.
MONKEYS
Vervet monkeys and baboons could be really oppressive at many campsites. They accustomed to humans, do not afraid of them and by fair means or foul they are fighting for a free meal. Their speed, agility, craft and effrontery are boundless. Some of them can open tents' zips or cars' doors. Your presence does not solve anything and does not guarantee safety of your food and equipment. Leading baboon males are able to grab your meal directly from your hands. Stolen cameras, sunglasses are common too.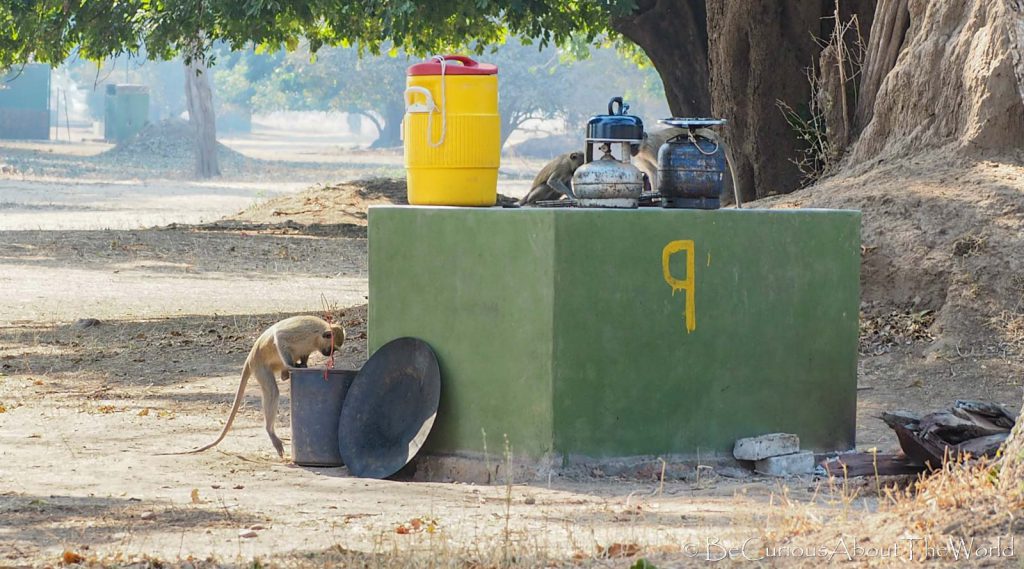 HIPPOS
Hippos have bad fame because of mortality rate when it comes to close encounters with them. They are highly territorial and aggressive. Having a bivouac on the river bank be aware of them. From time to time (especially at evenings) they come out of water to greeze. Sometimes they wander quite far from a river or a pool. They treat water as their shelter so never block their access to it.
CROCODILES
Never come to close to river banks or pools. Except crocs lying on sand and catching the sun there are surely plenty of them lurking in turbid water. Do not think you can notice them and quickly go out…
BUFFALOS
Unpredictable and aggressive. In particular old males guarding their herds. If you remain in a vehicle and give them way, you are completely safe.
RHINOS
I can risk the thesis that similar rules like with elephants should be obeyed. However, they are much more nervous and attack with full power.
HYENAS
Active mostly at dusk and during the night. They often penetrate campsites' rubbish bins. They never misprize your shoe, a water cooler, a rubber stove hose or even a fireplace screen.
OTHERS
It is no use to enumerate everything. All in all, it is going to be an adventure and something must be out of our control. Nevertheless remember about snakes, ants, spiders and scorpions. The interesting one is also a honey bagger – small but highly aggressive and brave animal, which uses to loot and plunder careless tourists' litter bags by night.
Conclusions
We do hope that we haven't scared anybody, because all these close encounters are really exciting. We just need to remember that a safari is not a visit in the zoo and we are only guests where the nature rules.