Kaokoveld
Kaokoveld is a wild and wide spread part of Namibia known as a destination of 4×4 expeditions and as a place where Himba and Herero people live.
The Himba are a pastoral nomadic people living in really demanding conditions. They are recognisable because of beautiful women wearing only skirt-like clothing made from goatskins. They cover themselves with a cosmetic mixture of butterfat and ochre pigment, to keep clean their skin over long periods (due to water scarcity) and protect themselves from the extremely hot and dry climate as well as against mosquito insect bites. They use an incense as a antimicrobial body cleansing agent, deodorant and fragrant, prepared by burning aromatic herbs and resins.
The others – Herero – are a proud tribe of farmers and pastoralists. They are identifiable also because of the clothes wear by women, but they are completely different from the Himba's. The traditional dress is derived from a Victorian woman's dress, and consists of an enormous crinoline worn over a several petticoats, and a horn shaped hat (said to represent the horns of a cow).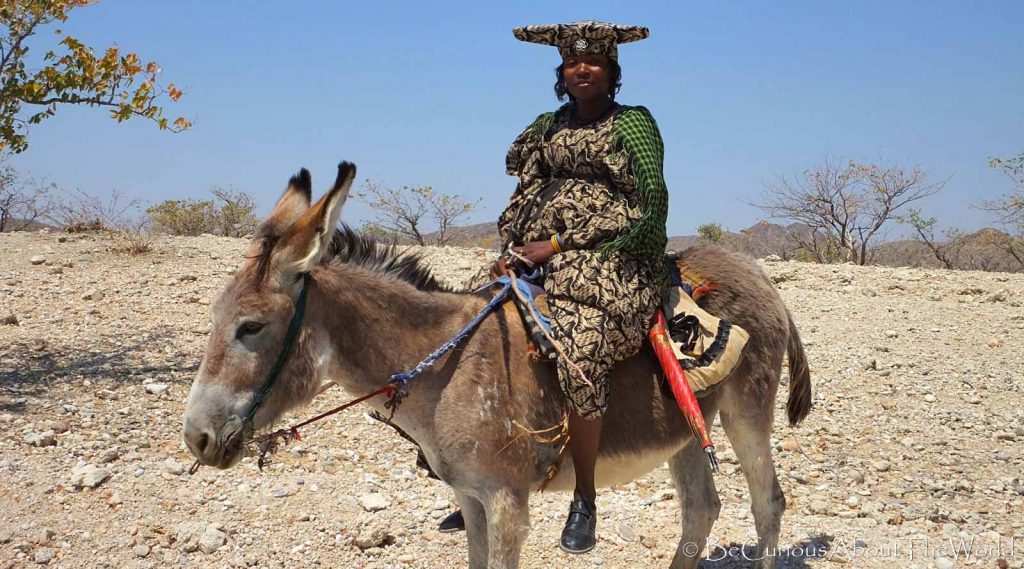 This kind of colourful mixture can be found on the roadless tracks of Kaokoweld.
Short history of Himba and Herero
The interesting fact is that The Himba derive from Herero tribe. About 150 years ago, Herero were gradually driven out by Nama people. Many of them got across The Kunene River and sought help from the bushmen tribe Ngambwe in Angola. Finally, in 1870, the tribe split and these people started to be called ovaHimba, that is: beggars. In XIX century European people invaded Namibia and in 1883 a trader Franz Adolf Eduard Lüderitz entered into an agreement with the natives. In the end a German colony was set up, called German South-West Africa. Soon afterwards there was a conflict between the Herero and colonizers. In the early twentieth century, the Himba and Herero became victims of extermination policy of the German colonial army. It was genocide on a massive scale. It is estimated that more than 100 thousand inhabitants of Namibia were killed that time.
They still remember about this tragedy, but anyway Herero women wear clothes which imitate clothes of German women from the past.
Himba people and their hairstyles
In our culture a particular hairstyle is not so meaningful. In case of Himba people things look completely different. Hairstyles are important and indicate age and social status there.
A young girl typically has two plaits (ozondato) of braided hair.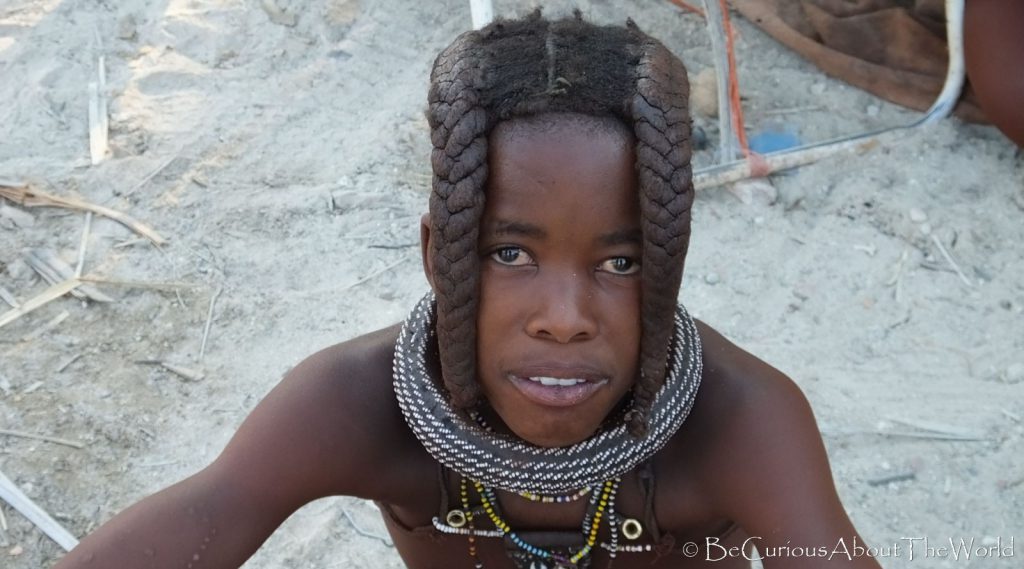 At puberty, the girl wears dreadlock-styled braids that cover her face, letting males know that she isn't ready to marry (see the picture above). But when a young woman is ready to marry, those same locks will be braided toward the back of the head, allowing potential suitors to see her face.
A married woman wears an erembe headdress (see the picture below). A widow takes the erembe off.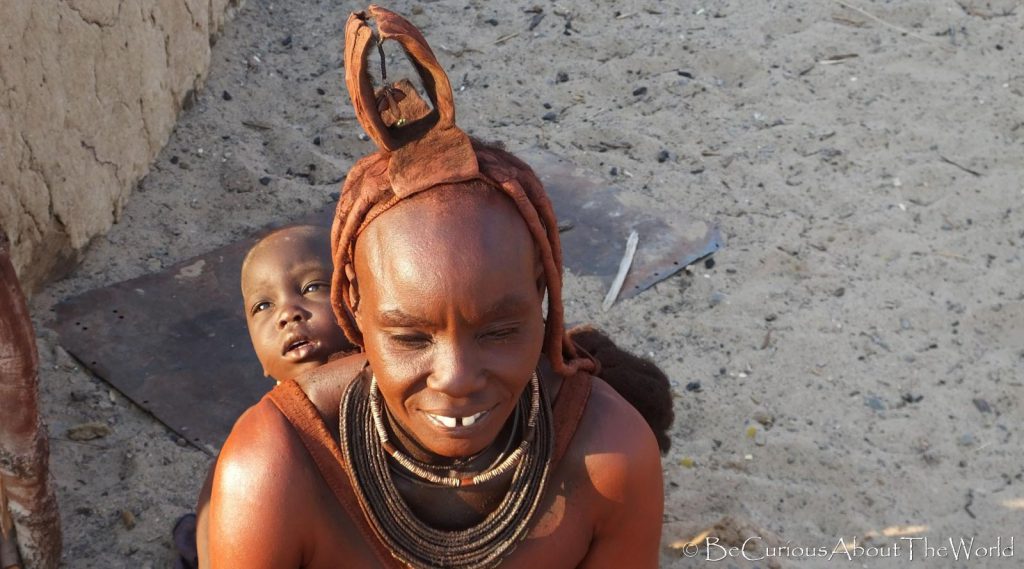 Himba males also wear different hairstyles according to their social status. The single plait, the ondato, is worn by young boys down the back of the head. Being married it is covered with the ombwiya headdress.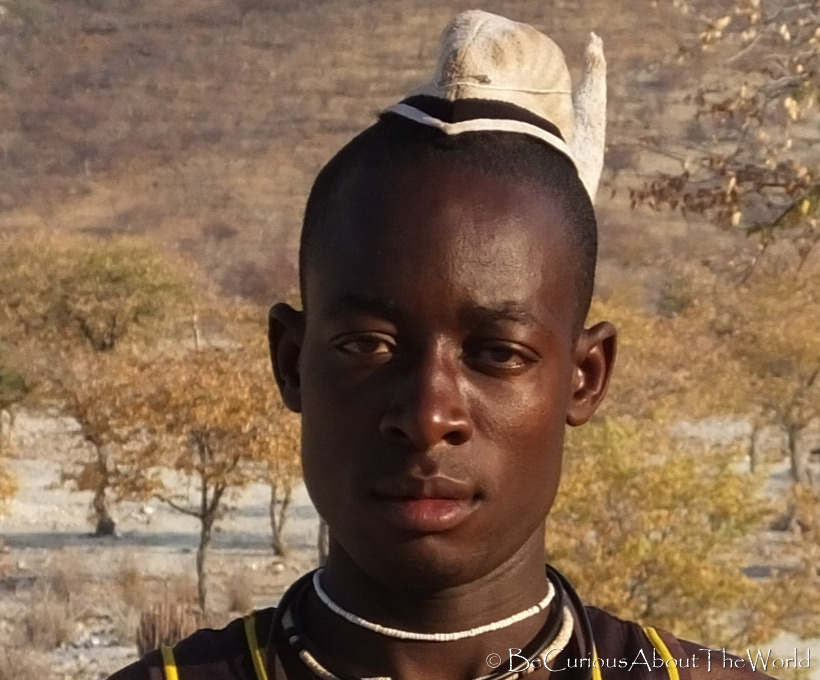 Unfortunately our civilization pushes and shoves everywhere. In case of Himba and Herero women it is still easy to meet them in the traditional clothes, while men are mostly unrecognisable wearing common t-shirts and shorts. What a pity….