Huayhuash Circuit
Not too far ago the finishing of Huayhuash Circuit and the logistics in that region were quite esoteric subject. Alleged dangers (some cases of robbery on tourists), "Shining Path" guerillas activity and competitive Alpamayo Circuit caused that few tourists have been exploring this area. Not many people have paid attention that touching story of Joe Simpson from popular movie "Touching a void" happened exactly there.
Going to Peru in 2015 we didn't take this localisation under consideration too. Picturesque Alpamayo tempted much stronger but its popularity and crowds on the trail got us to reconsider our plans. That is how we started to think about Huayhuash Circuit.
This trekking leads through altitudes between 3000-5000 and makes a kind of loop around a gorgeous mountain chain. These mountains are situated in tropical climate so despite the fact of high altitude the trekking is free of snowfields and glaciers. Slender shaped peaks (i.e. Yerupaja, Siula, Jirishanca), emerald lakes and juicy-green pampa make constant jaw-dropping views for your eyes.
Is Huayhuash Circuit wild?
After collecting information from The Internet, it has appeared that it is not as wild and remote as we supposed before. A lot of commercial agencies provides services in the region and they offer guides, mules and horses, tents, cook service and so on. Even transporting a living hen in a cartoon box for preparing a soup for tired gringo is nothing extraordinary. Groups of loudly breathing hikers carrying quite light backpacks follow ruthlessly fast locals :p We don't remember the exact cost of that circus but it was ridiculously high.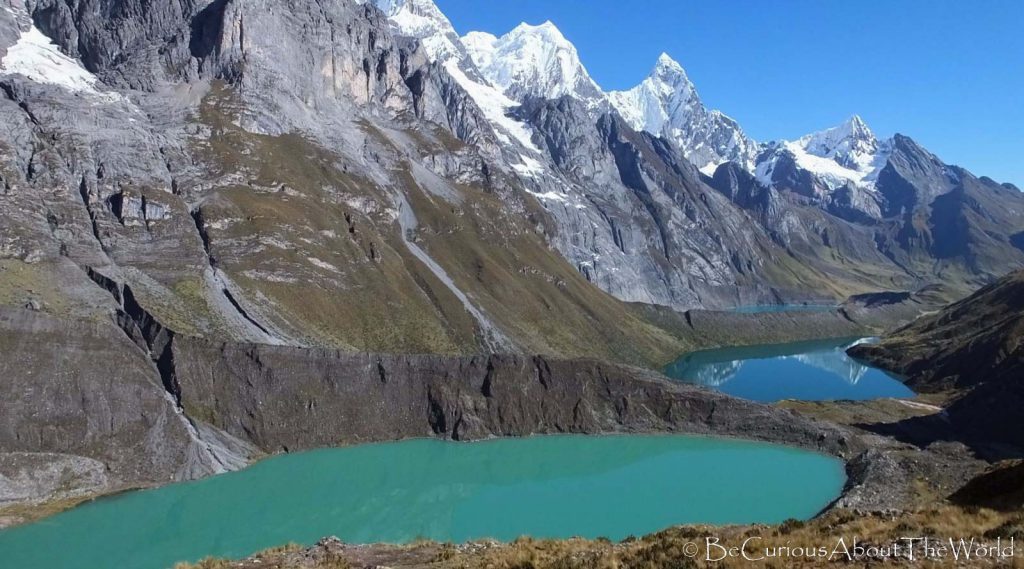 Traditionally we chose self-dependence. Carrying big bags and being ready to spent up to 10 days in the mountain we appeared in a tiny village Llamac. The first part of the trip – the way to lake Jahuacocha is popular among 1-2 days visitors and it is hard to find some solitude there. Campsite is often occupied by plenty of tents, and hosts of the place offer a grilled trout and beer.
Along the way we met an Argentinian guide with his client. After unsuccessful guessing our nationality and final info that we are from Poland he hit his forehead and told: "I should have guessed. Only Polish people are tough enough to do the whole circuit independently and carry everything on their back! I'm sure you have a bottle of vodka too. I knew your famous Himalayan mountaineer Wanda Rutkiewicz and she always had a bottle with her :)" Damn it, we hadn't…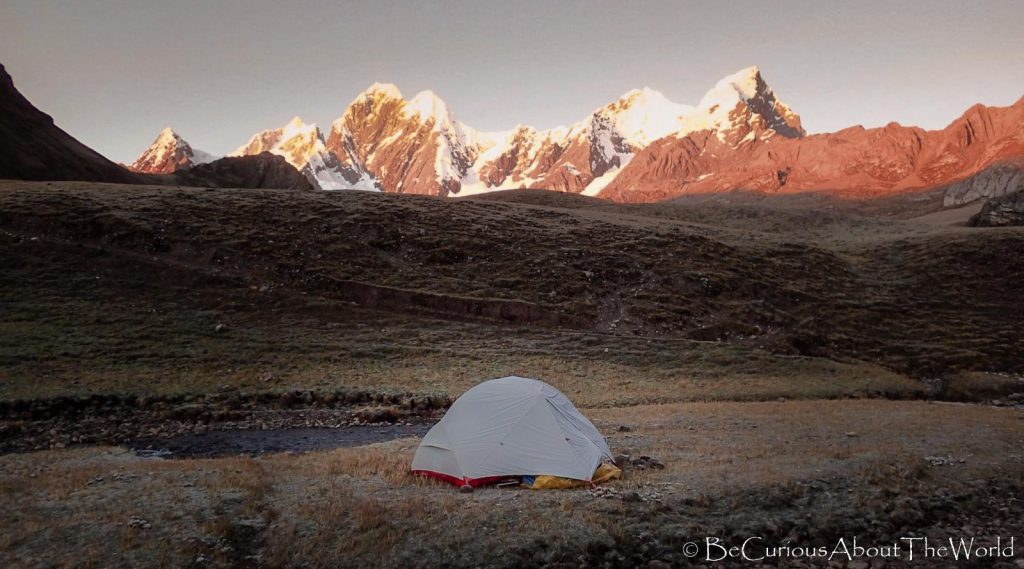 We were well acclimatized so the night's rest brought enough regeneration to smoothly continue our trip. Later we met less and less tourists who mostly were members of organised groups. Navigation and sense of direction didn't make any problems and the only doubts aroused rather because of surplus of tracks (often made by cattle) than their lack. We can't call these mountains teeming but it is not a wilderness comparable with some places in the USA or Canada.
Itinerary
We finished the full circuit in 8,5 days. The nonstrenuous but stable pace and morning discipline let us reach camp places 2-3 hours before a dusk.
day 1: Llamac – Jahuacocha (there is more than one option to choose; quite comfortable is traverse along the aqueduct)
day 2: Jahuacocha – Sambuya Punta – Rondoy Punta – Quartelhuain
day 3: Quartelhuain – Mitucocha – Janca (caution: on the traverse from Cacananpunta to Mitucocha the path is hard to find)
day 4: Janca – Carhuac (Yanapunta) – Carhuacocha – Gangrajanca
day 5: Gangrajanca – Siula – Quesillococha – Huayhuash (the most beautiful part of the trip!)
day 6: Huayhuash – Portachuelo de Huayhuash – Viconga – Punta Cuyoc
day 7: Punta Cuyoc – Huayllapa – Huatiaq
day 8: Huatiaq – Tapush Punta – Q. Ocshapata – Jahuacocha (we intended to go directly to Llamac but we couldn't find a path shown on our map and finally, out of necessity, we went to Jahuacocha)
day 9: Jahuacocha – Llamac (yes, cold beer is available there!)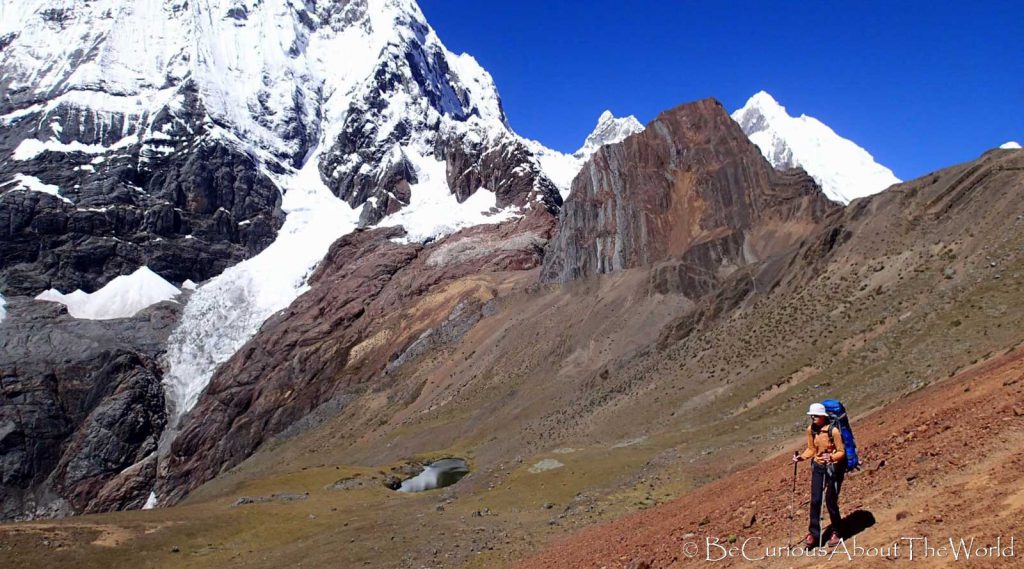 Logistics
Transport to Llamac: early morning bus from Huaraz via Chiquian. The operator: Turismo Nazario. Ensure about hours of return transport. It is relatively early and going back from mountains it is nice to be sure you are going to be on time.
Maps: sheet 0/3C Alpenvereinskarte – Huayhuash – in our case tey were bought in Poland. In Peru we have seen some maps in guides' offices but we wouldn't assume their availability all the time.
Guidebooks: superficial description in Lonely Planet. Noteworthy is guidebook Trekking in Peru published by Bradt.
Food: in our case we carry 100% of it with us. In some places there is possibility of buying beer, cola, potatoes or trout, however, you should treat this option only as a kind of prize for effort not as a base of your catering. When it comes to trout, their presence in adjacent lakes may be up to your temperance.
Water: easily accessible in valleys. Because of big quantities of grazing cattle and sheep use a filter, purification tabs or boil the water long.
Fuel/gas: definitely we recommend to be independent.
Camping and accommodation: your own tent is essential, because there are no other possibilities. Campsites are limited to the place for setting the tent and alternatively a pit latrine.
Equipment: winter climbing and belaying equipment is redundant. We finished the trip using low trekking shoes (June). Trekking poles are very useful.
Retraction possibilities: because of transport possibilities limitation the only sensible options are Quartelhuain, and farther Cajatambo from Huayllapa.
Security: according to our feelings all the threats are myth. The local community is friendly under the condition of paying entry fees. However, sometimes they mention that entry fees are due to and for 'seguridad' The real danger can be aggressive pastoral dogs…
Fees: the total cost of entry permits for 2 persons was about 200PEN. Take some change!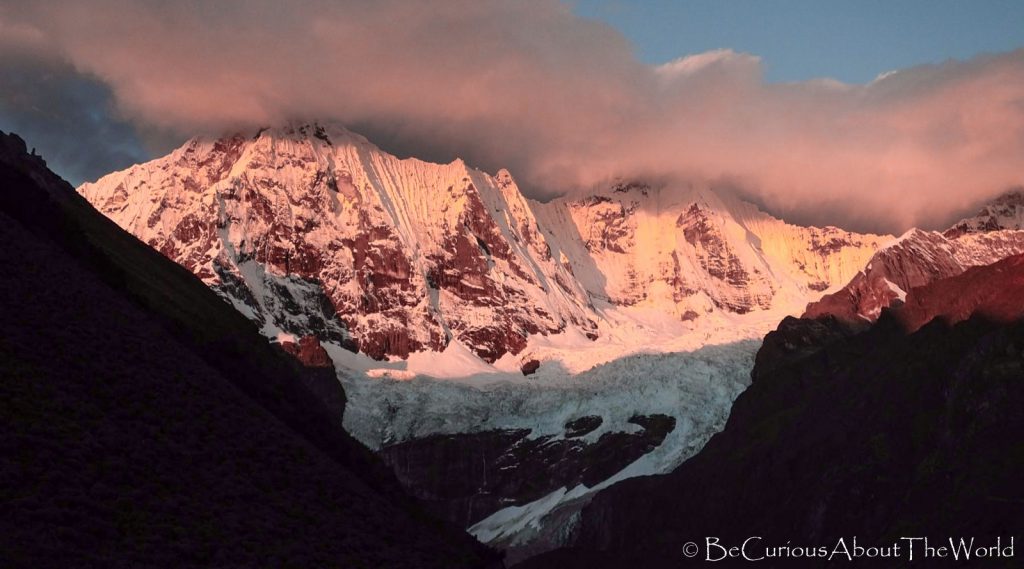 Preparing this post over two years after finishing the trek I figured out that nice description was published by Bogna and Radek at their blog bognairadek.pl. We recommend their post and if you think that something is still missing here, please let us know.